Romeo's Laboratory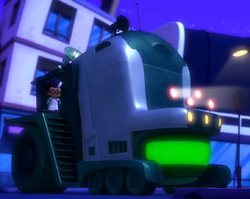 Supercomputer & Vehicle
Romeo's Laboratory is an 8-wheeled travelling vehicle that Romeo uses to get from place to place. It is a one-seated vehicle with many screens and gadgets that Romeo installed. It also has radars and a security alarm in case someone breaks in. The outside of the lab has many bright lights for navigation in the night and has a staircase for Romeo to climb to get in. In "Gekko and the Mighty Moon Problem", it was revealed that the laboratory could jump from place to place.

The laboratory itself also doubles as Romeo's super-computer.
Ad blocker interference detected!
Wikia is a free-to-use site that makes money from advertising. We have a modified experience for viewers using ad blockers

Wikia is not accessible if you've made further modifications. Remove the custom ad blocker rule(s) and the page will load as expected.