PJ Masks Headquarters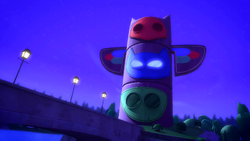 Where the team plans each mission.
The Headquarters (mostly referred to as simply HQ) is where the PJ Masks meet up to discuss the current situation, who's involved, what to do, and which vehicle to take. The building itself is in the shape and form of a totem pole as a disguise from the public.

The Headquarters holds the following vehicles:

It also holds more features, such as:
The PJ Picture Player, a surveillance-like camera to find villains easily.
A forcefield to protect the PJ Picture Player.
A rocketship function for total disasters and emergencies only.
Ad blocker interference detected!
Wikia is a free-to-use site that makes money from advertising. We have a modified experience for viewers using ad blockers

Wikia is not accessible if you've made further modifications. Remove the custom ad blocker rule(s) and the page will load as expected.