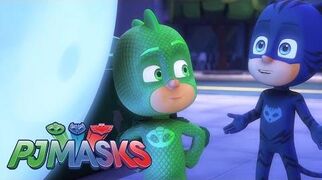 "Owlette and the Moon-Ball" is the second half of the 4th episode in Season 1 of PJ Masks.
Summary
By day, Connor, Greg, and Amaya play soccer against Cameron's team. Cameron says that Amaya is not good at soccer. When Amaya tries to score a goal, Connor and Greg get mad at her for not passing the ball to them, and for showing off about how good she is at soccer. Amaya gets the soccer ball back when Luna Girl's "Moon-Ball" sucked up the soccer ball. The PJ Masks soon find out that Luna Girl's Moon-Ball sucked up all the toys so she can keep them to herself. Owlette makes the mission harder by showing off about how good she is at soccer, and by getting sucked up in the Moon-Ball, then Catboy and Gekko had a plan to pop the Moon-Ball with the flag pole at the outside museum and releasing Owlette and all of the objects Luna Girl stole.
Characters
The following characters appeared in the episode "Owlette and the Moon-Ball":
Synopsis
This episode article is in need of a synopsis. A synopsis is intended to be a very detailed description of what occurs in the episode.
Moral/Lesson
This episode teaches that it's not good to be full of yourself (to not "rub things in").
Trivia
This marks the first time a "slow motion" moment occurs (Luna Girl spinning on the merry-go-round).