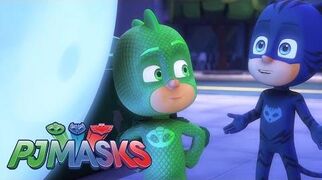 "Owlette and the Moon-Ball" is the second half of the 4th episode in Season 1 of PJ Masks.
Summary
The day starts with children playing in the park as Amaya wanted to prove that she is good at soccer until a giant moon-like ball appears and steals the soccer ball as a moth flies by, the kids learn that Luna Girl is responsible for not only stealing their ball but all the toys in the city.
Characters
The following characters appeared in the episode "Owlette and the Moon-Ball":
Synopsis
This episode article is in need of a synopsis. A synopsis is intended to be a very detailed description of what occurs in the episode.
Moral/Lesson
This episode teaches that it's not good to be full of yourself (to not "rub things in").
Trivia
This marks the first time a "slow motion" moment occurs. (Luna Girl spinning on the merry-go-round).