Lunar Dome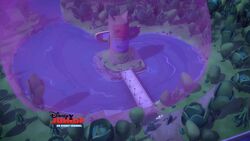 From Season 1, Episode 24A "Catboy and the Lunar Dome"
The Lunar Dome is an extremely large spherical force field that Luna Girl used to keep the PJ Masks trapped within the area of their Headquarters while she had a party with stolen school equipment.

The Lunar Dome is pink in color, and is strong enough to where it can withstand most attacks from all PJ Masks members at once, and can begin changing colors (in a style similar to a strobe light) once shaken or moved. The Lunar Dome also goes underground. The only way out of the Lunar Dome is if Catboy drills through it by performing a dance moved called the "Spinning Tornado" with boost from Super Cat Speed.
Ad blocker interference detected!
Wikia is a free-to-use site that makes money from advertising. We have a modified experience for viewers using ad blockers

Wikia is not accessible if you've made further modifications. Remove the custom ad blocker rule(s) and the page will load as expected.