This article or section is in need of expansion. Help the PJ Masks Wiki by clicking edit and adding information and/or media.
Luna Lair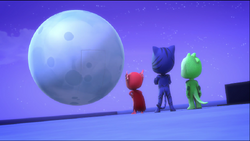 The Luna Lair, as it appears in "Owlette and the Giving Owl"
The Luna Lair is where Luna Girl plans her motives to wreak havoc in the city. It is also the home of her moths that help her with her evil schemes.

The lair itself is in the shape of a sphere and has a door that comes down from above for Luna Girl to come out of. It is silver and has the ability to float away. It also has some defense mechanisms, such as a force field to keep intruders away, and an automatic Luna Beam to capture and immobilize those attempting to break in.
Ad blocker interference detected!
Wikia is a free-to-use site that makes money from advertising. We have a modified experience for viewers using ad blockers

Wikia is not accessible if you've made further modifications. Remove the custom ad blocker rule(s) and the page will load as expected.