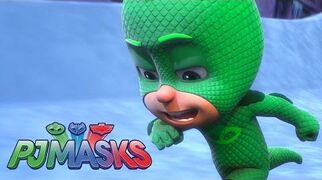 "Gekko's Nice Ice Plan" is the second half of the 12th episode in Season 1 of PJ Masks.
Summary
Romeo plans to turn the city into a giant ice rink. As Gekko learns that he can stick up from slipping on the ice, and as he tries to tell what his plan is, but Catboy and Owlette just ignores him. Will his friends can listen to him.
Characters
The following characters appeared in the episode "Gekko's Nice Ice Plan":
Synopsis
This episode article is in need of a synopsis. A synopsis is intended to be a very detailed description of what occurs in the episode.
Moral/Lesson
Trust yourself; stand up for yourself and make yourself heard.
Pay attention to your friends; don't ignore them.
Trivia
This marks the first time a PJ Masks member wakes up at the beginning at the episode.
This episode aired again on February 20, 2016 as a part of a Frozen-themed event on Disney Junior. However, "Gekko Saves Christmas" was left out of the airing, likely due to time constraints and the fact that it is no longer the holiday season.
In this episode, Gekko learns to trust his instincts, and Catboy and Owlette learn to talk less and listen more.