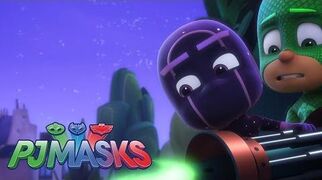 "Catboy and the Shrinker" is the first half of the 4th episode in Season 1 of PJ Masks.
Summary
By day, Connor, Greg, and Amaya were heading to the playground. Connor says he's finally tall enough to go on the big kids' stuff when Greg notices that the playground has been shrunk. The PJ Masks soon find out that Romeo and Night Ninja team up to shrink them. Catboy says that he's a big kid. But when Romeo and Night Ninja shrink him, Catboy makes the mission harder by complaining that he's so small.
Characters
The following characters appeared in the episode "Catboy and the Shrinker":
Catboy
Owlette
Gekko
Romeo
Night Ninja
Ninjalinos
Synopsis
This episode article is in need of a synopsis. A synopsis is intended to be a very detailed description of what occurs in the episode.
Moral/Lesson
This episode teaches that no matter how small you are, you can think big.
Trivia
Romeo introduces the Shrinker in this episode.
Only Catboy was shrunken in this episode.
This marks the first time two different villains side together to go against the PJ Masks.

Even though Romeo and Night Ninja sided together, they didn't seem to like each other very much.